Ok, I'm going to be totally honest here. I've barely played any of this game because I'm terrified of it. I've never been particularly good at horror games, anyway. I was afraid to even begin Quake, and the bad guys in that game are teddy bears (sometimes literally), compared to the villain in this piece.
I have had my first encounter with the alien, a scripted scene where it murders a companion – following which I had the most terrifying wait for an underground rail car that I've ever experienced. Nothing even happened, but the music began to pound, a repeated drum beat imploring my heart rate to try and keep up, and I had a recollection of the guide – yes, I wimped out and used a guide so I could avoid jump scares – telling me that I needed to run into the car and push the button to depart as quickly as I could.
With the soundtrack blasting at me I needed no encouragement. Sightings of the alien in-game: still zero. But I don't want to play any more. The thought of the alien jumping me while I'm interacting with a computer console or looking at my inventory is too much to bear. There is no possibility of a perfect, alien encounter-free playthrough here. Like Five Nights at Freddy's, it is inevitable that I will be jump scared, it will make a loud noise and I'll probably have a heart attack. I feel like I have so much to live for, but Alien: Isolation is already giving me nightmares.
It's not encouraging that the Kotaku tips guide says "The first time you take on the alien, it can be helpful to simply walk out in front of it, make a loud noise, and let it kill you. Get that first one out of your system." I don't want it out of my system Kotaku! I want all parts of my system to remain within my system!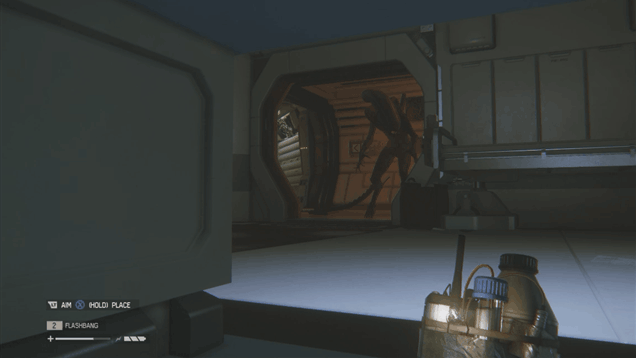 I'll update this article if I come back to it. No promises.
Cover image from: https://www.flickr.com/photos/psygeist/15940692519/ (because I was too afraid to get a screenshot of the alien myself)
GIF from Kotaku: http://kotaku.com/tips-for-playing-alien-isolation-1643391269